So we decided to take an organic vegetable gardening course using the synergistic approach. Then came the bread making and Umbrian cooking classes.  After those eye opening courses, the belief that one could and should eat better was confirmed.   Producing ourselves what we needed and buying from local producers was the key.  We then became truly convinced that promoting the "slow" quality of food and wine – even in our own very small world – promotes a better quality of life which in turn means a better existence for our animal friends and a much healthier and safer environment.  It also helps the local economy and small businesses around us.  A slow life philosophy to be reflected upon but most of all to be acted upon and shared with others especially our guests.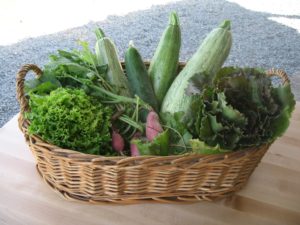 You can only believe this philosophy when you actually see with your own eyes the amazing vegetables and fruit growing in the garden without using any pesticides or chemical fertilizers whatsoever.  A miracle.  And then the final leap of faith happens when you pick and eat any of these organic ingredients either on its own or as part of a more complex dish.  The proof is before your eyes but most of all, it is literally sitting on your plate.
To this end, we have "transferred" our newfound philosophy and experience right into our kitchen in order to share it with all of our special guests.  Having dinner at the Antica Olivaia means eating together with other guests from all over the world – family style – and sharing good food and life experiences under the magical moon along with the fireflies.