"Here there are no strangers, only friends you haven't yet met." – W.B. Yeats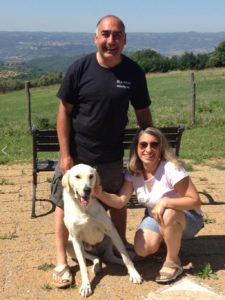 Marco Paris was born and raised in Rome, Italy but his love for music and piano playing brought him all over the world and finally to England.  He has played in duets and orchestras on land and on sea and after 20 years of English life, decided to move back to his hometown of Rome. At the Antica Olivaia, Marco has now combined his love of music with his passion for cooking and creates simple but top-notch eating experiences.  These are based on the farmhouse's organic produce and olive oil and other farm-to-table products of the Umbrian region (such as saffron, truffles, salami, porcini mushrooms, ricotta, honey and pecorino cheese).  So let Marco soothe your souls (and tummies) with his delicious "pasta alla carbonara"  while listening to the blue notes of Miles Davis.
Daniela Falconi was born and raised in Chicago, USA and then, as a young girl moved to Rome, Italy where she received her university degree in Marketing and Art History.  Her love of art, food and Italian culture have kept her in Italy ever since.  After 20 years of corporate work, her dream of opening a bed and breakfast farmhouse finally came true. Daniela (aka Didi for her friends) has created many one day and half day itineraries for her B&B guests whether it's exploring medieval towns, hiking up waterfalls, food and wine tasting experiences or just taking a walk through the olive groves. She too has combined her passion for art with desserts and, along with her husband Marco, they create hearty meals served in a family style atmosphere as well as a cozy environment for a relaxing vacation in Umbria.
And then there's the ever so handsome Miles – the inn's canine concierge and guardian.  Born in June, 2012 in a small town north of Rome, he quickly moved to Orvieto at the end of July, 2012 to expand his horizons and enjoy the country life.  He is half Irish Setter, half Labrador and is bilingual Italian/English.  Miles' passions include both classical and jazz music (in fact he is named after the legendary Miles Davis), chasing birds, cracking walnuts, playing with the kitties and going for long walks with the guests around the estate.  His favorite foods are cheese, Marco's homemade bread, yoghurt and of course gigantic bones.  He is currently looking for a girlfriend (tall blonde older woman who loves music and playing ball!).  He enjoys meditating on the belvedere terrace looking out onto the Umbrian countryside.
Lucy and Quilt, the farm's feline sisters, were also born in June, 2012 in Orvieto and moved to the Antica Olivaia in August 2012 where Miles greeted them most enthusiastically.  After a period of adjustment, the kitties now think Miles is their big brother and they nap together.  Both cats love classical music and eating liver pate' as well as lizards.  Quilt is an eager hunter and loves bird watching while Lucy is a free climbing expert and is an eternal purrer.  They are cuddly and affectionate but love their space and independence and are the epitome of the "slow life" here in Orvieto.
Coming from a frenetic life in Rome after more than twenty years of striving for a career and a salary that no longer made any sense, we moved to Orvieto and started to truly live like never before.  We stopped to smell the roses as they say and finally learned the art of "down-shifting."  We began to use all 5 of our forgotten senses again – smelling the lavender and the wild mint in smogless air, listening to the birds chirping and bees buzzing, tasting truffles and olive oil, seeing the moon and the glittering stars but above all feeling the soft clayish earth beneath our fingers and those round little olives on our majestic trees.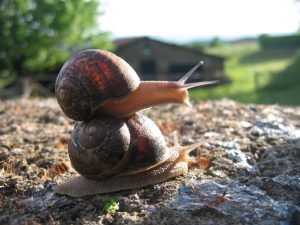 All of this of course served a purpose and created what today is the essence of the Antica Olivaia – "a slow farm for a slow life."  Therefore, our hope is to welcome you to our ancient farmhouse and, even in a short amount of time,  to help you slow down and enjoy the tranquil rhythm of nature for a truly relaxing farm stay in Umbria.
So try to imagine this…
After a good night's sleep in a rustic room with old wooden beams over your head, you wake up to the sound of birds chirping.  You have a hearty breakfast served out on the veranda that will give you the energy for whatever you wish to do that day (or not do!).
Walk around endlessly on the 7 hectares of the estate and discover olive groves, forests, fields, creeks and wild animals running freely.
Find places and hidden corners on the estate in which to relax, sleep, lounge, read a book and (why not?) just do nothing at all. Il dolce far niente …as we say in Italy.
Rest your mind and body at the farmhouse's swimming pool while the smell of lavender, rosemary and wild mint envelop you and help you drift away.
Cradle yourself up in a comfy hammock while you lose track of time and stare up at the sky, listening to the birds and the wind in the trees (now when was the last time you took a nap in one of those?).  And watch the peregrine falcons hover over some unknowing prey across endless verdant fields.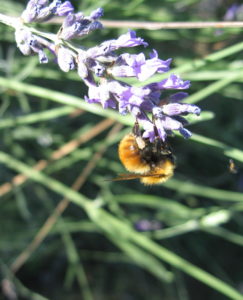 Reflect on the "meditation bench" with Orvieto perched on its lofty plateau and an entire valley floating right before your very eyes as the sun sets.
Go for a refreshing swim in the pool or or take a fun cooking lesson with Marco to become a "fearless" cook.
Reserve a sightseeing tour "under ground" in Orvieto's many caves and wells and "above ground" with a visit to Oriveto's gothic Duomo – one of the most beautiful cathedrals in Italy.
Pay a visit to one of Umbria's medieval towns, like Assisi or Todi, frozen in time where traditions centuries old are still alive today.
Participate as a spectator in medieval jousting competitions, historical costume parades and other celebrations or go feast on local specialities at a super local food festival.
Enjoy a delicious meal (or two!) cooked by Marco and Daniela in traditional Umbrian style with other guests at a long table family style.
Finally to close the day off, have yourself a night cap of homemade limoncello, arancello or wild fennel liqueur while watching the stars and the fireflies all around you.
And then, after a quick glance at the stars in the Milky Way, off to bed for the best night's sleep ever…and that's just a normal day here!
The original stone umbrian farmhouse dates back to the 1600's and was the point of reference for the entire San Bartolomeo valley, just east of Orvieto.   From what we know, it was  abandoned in the early 1900's and then revived in the 1930's as a refuge for the locals during the war.
The estate was abandoned for many years and passed through various hands until we decided to purchase it in 2012. We renovated and converted the old farmhouse into an "agriturismo" or agritourism:  in other words, a farm holiday experience offering accommodation in several guest rooms in an old country inn with a communal dining area, and a main kitchen for serving meals to guests.  A faithful renovation was completed and a new veranda/solarium was added. We preserved the original layout of the main house as well as the 3 large fireplaces, terra cotta tiled floors, wooden beamed ceilings and even the door handles and lintels were left intact.  The stalls became a living/reading room and kitchen while the ground floor room was converted from a wine cantina!
The main objective of the "agriturismo" concept was to bring farmers and city people closer together and above all to give farmers additional income by allowing them to open up their homes and tables.  Guests can see how the land is cultivated and how agriculture is conducted in this part of the world.  Local food products can be tasted and bought.  Meals are served with farm-to-table ingredients and local recipes.
And so, with this in mind, we have recreated the true essence of an agriturismo for all our world travellers to experience. We share our life experiences, our cultural interests, the agricultural challenges of a farm life and above all we share good food and wine with our guests. They share their part of their world with us and thus a bond is created.
So we hope to welcome you to our humble abode in Orvieto, where you are not just a guest but a part of the family!